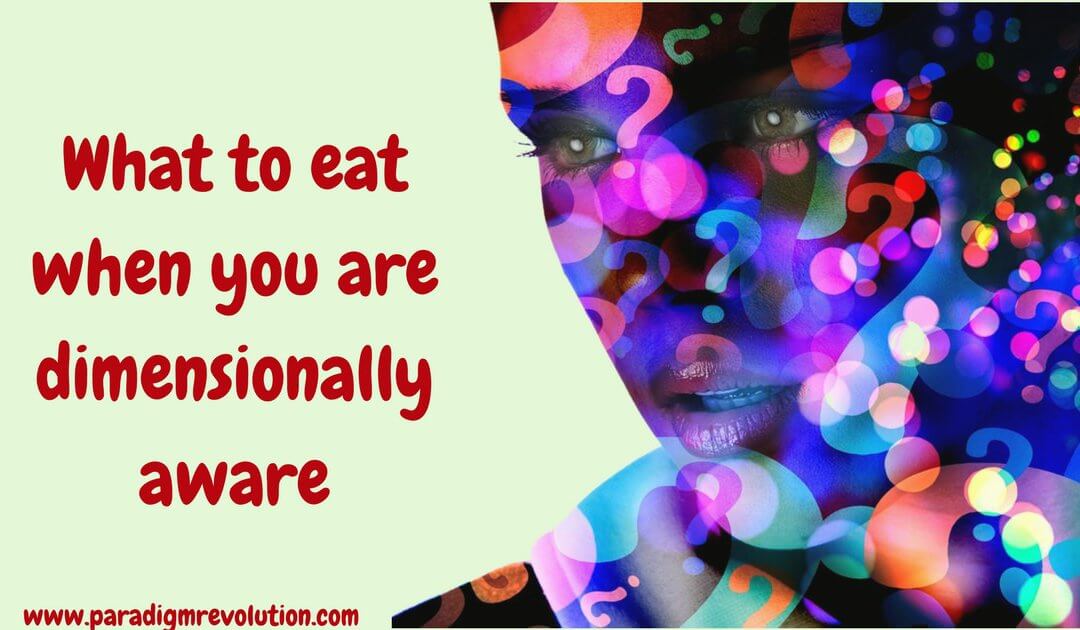 Fruit or Friend?
Amazon just sent me an email highlighting their Vegan-friendly gifts. It included t-shirts and shopping bags with the slogan 'Eat fruit, not friends'. This immediately made me feel conflicted as it implies that there are certain objects in life that are conscious such as animals and other things that are inanimate and unconscious such as plants. 
But when you are a multidimensional person, tuned into many levels of consciousness, you realise that nothing is an inanimate object so the concept that some things are living and conscious and other objects are not, just doesn't work. It also raises the issue of what to eat when you are dimensionally aware.
Consciousness in all things
Ever since I had a kundalini awakening when I was 18 years old, I have been tuned in to many levels of reality and I realised that everything is actually part of the one mind. It was a moment that profoundly changed my life. 
So now I am able to sense the consciousness in all things – both so-called inanimate and animate. And I am not just talking about hearing the spirit of trees, I have even been known to have chats with pieces of furniture! This level of functioning is a bit too much for everyday life so I tend to tune it out.
The Confessions of Basil
A few years ago I had an experience which really made me rethink what it is to be vegan or vegetarian. In the days when I was still eating meat, I was cooking a meal that involved fresh basil. I had shopped for this meal in Tesco supermarket on one of my late night shopping trips after the gym, so none of the packet basil was left. I picked up one of the living herb pots and brought it home.
Later, whilst cooking with the basil and tearing off some of the leaves I heard, with my clairaudient ability, somebody saying 'ouch' in an indignant fashion. Perturbed, I carried on but I realised that the Basil plant was speaking to me and telling me its annoyance at having its leaves torn off!
Although I cooked the meal, I continued to 'hear' the Basil plant as it complained about being treated in this way. Through telepathic communication, it told me of factory farming of herbs and how difficult it was for them.
I must say I was a bit concerned I would no longer be able to eat anything. I mean if both animals and plants are so alive to me, then what exactly can I eat?
Lessons from Baz and Paz
I told James who thankfully understood and Baz, as he became known, became a member of the family taking pride of place in my office in our then home in Buxton. He started to grow so large that we re-potted him several times.
We took him for 'walks' whilst he was still small enough for us to carry him and he would sit outside in Nature facing the trees in the woods. One day he said, "shall I show you how we talk?" And then he sang a song of consciousness in vibration and colour. He was singing to the trees. He told me that this is how plants communicate.
I also heard Italian Parsley (or Paz as she became known) talk to Baz about their purpose in life. Paz said to Baz, "this is our lot. We are grown to be eaten and then we are born again. Nourishing humans is our purpose."
But Baz wasn't having any of it. No humans were worthy of eating his leaves. Now I understand why Basil has a reputation of being King of herbs although, in Native India, Basil is seen as sacred and the Queen of herbs.The British Empire changed it into a masculine herb!
Tuning into your body's needs
Although I am vegan now, apart from the odd bit of fish, I am not doing this just out of concern for animal cruelty. Truth is, I have long had a difficult relationship with meat and dairy even as a small child and it has been a relief that, as a woman, I have now entered a different phase in life and my body no longer feels like it needs meat.  
Spare a thought for the plants and remember Baz
So going back to the Amazon T-shirt slogan, 'Eat Fruit, not friends' – to me, there is nothing that isn't our ' friend'. Plants are our friends too. So if you are vegan because you believe that this is the cruelty-free way, spare a thought for the plants who are factory farmed, who feel pain and sacrifice themselves to be part of our cycle of life.
Sadly Basil, a native of much hotter climes did not make it through the cold winter of the Peak District despite a valiant attempt to make it through. As he left me he told me to look for him in all Basil plants as his spirit would go back to be at one with them all. 
I hope you have enjoyed the story of Baz. Do let me know what you think in the comments below. 🙂
Image: Pixabay